What is Neodymium Iron Boron Magnet?
A Neodymium magnet (also known as "NdFeB", "Neo" or rare earth magnet) is a permanent magnet composed of neodymium, iron and boron. They are one of the strongest rare earth magnets of all permanent magnets, and are stronger than samarium cobalt (SmCo), alnico, and ferrite. Besides high magnetic strength, they are also comparatively affordable, which makes them ideal for an extensive array of consumer, business, industrial and technological uses.
NdFeB magnets (neodymium magnets) provide maximum performance with the smallest magnet size. The Neodymium permanent magnet is used in almost all industries, such as the automobile, aeronautics, wind power turbine, military, illumination, food production, separation, electric motor and generating industries.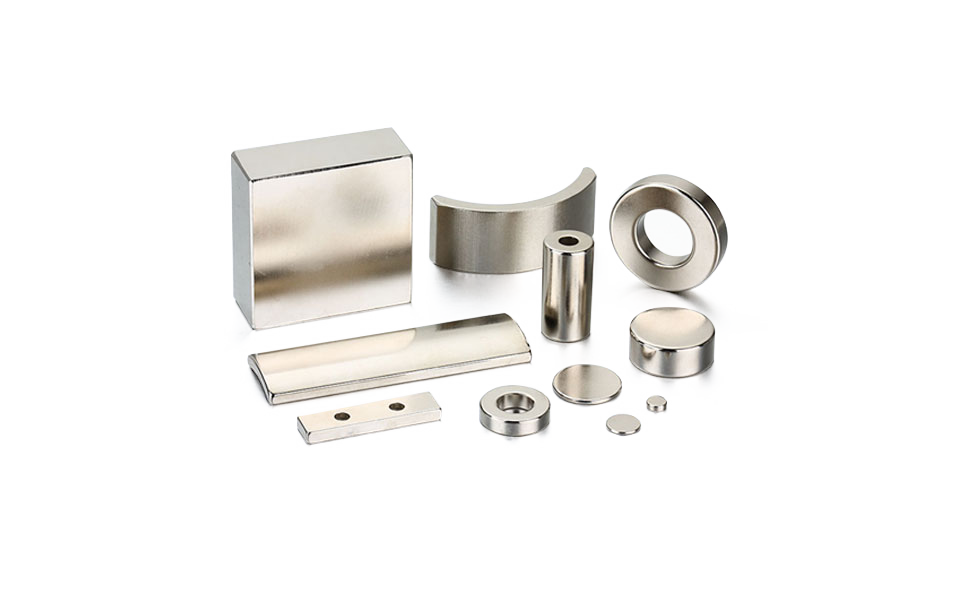 Permanent NdFeB magnets Uses
NdFeB magnets are available in several different sizes and variations, including disc magnets, neodymium ball magnets, NdFeB blocks, neodymium ring magnets, neodymium arc magnets, and countersunk hole magnets.
There are also custom neodymium magnets with screwfix, and they can be rubber coated or plastic coated. This offers numerous options to accommodate a wide range of applications, including
For use in motor and generator drives, both wind and tidal turbines

Meters

Audio devices - headphones, microphones

PC Disc drives and printers

Vehicles (clamps, sensors, alternators, interior trim)

Aerospace precision magnets - sensors, navigation

Excellent performance pot magnets, fishing magnets or hook magnets

Electronics - switches, relays, sensors

Lifting heavy metal materials - see NdFeB magnetic lifters

Advantages of rare earth magnets
Continuous maintenance of the magnetic field with no loss of strength

lightweight and compact because of the high energy density of the magnet material

is a highly cost-effective solution

No need for maintenance or cooling since the magnet does not generate heat from the energy source
Grade of Rare Earth Neodymium Magnets
NIB magnets are available in different grades, which correspond to their magnetic field strength, from N35 (the weakest and cheapest) to N52 (the strongest, most expensive and more brittle). Below is a list of the NdFeB permanent magnet grades and their respective magnetic properties.
1.Materials: Neodymium-Iron-Boron;

2. Technology: Utilizes new Sintered NdFeB magnet techniques and equipment such as strip casting, HDDR technology;
3. Magnetic properties: High coercive force, the max operation temp is up to 200 degree centigrade or 380 curie temperature;
4. Grades: N35-N52, 30M-50M, 30H-48H, 30SH-45SH, 30UH-40UH and 30EH-38EH;
5. Shapes: Various shapes
6. Size: According to customers' request;
7. Coatings: Ni, Zn, gold, copper, epoxy, chemical, parylene and so on;
8. Applications: Widely used in different applications, such as sensors, motors, rotors, wind turbines/wind generators, loudspeakers, magnetic hooks, magnetic holder, filters automobiles and so on.
NdFeB magnet
NdFeB magnet is an alloy magnet made from ND, Fe, B and other trace metal elements. It is a rare earth magnet known so far for the strongest magnetism as well as high performance (8MGOe-55MGOe) and good coercive force. Proven production process, strict quality assurance, complete technical service and remarkable cost performance.
Machining and tolerances
Neodymium is easily ground, although coolants must be used in the process to avoid spontaneous combustion of powder. Grinding should be completed before coating or plating is applied to protect the magnets from corrosion. Standard tolerances for neodymium magnets are +/-0.05mm for ground dimensions.
Temperature constraints
The temperature coefficient of neodymium has triggered several grades to be developed to meet specific operating requirements. Please refer to our chart of magnetic properties to compare the characteristics of each grade. Before choosing a neodymium magnet be sure to consider your application's maximum operating temperature.
Added value services
Our knowledgeable engineering department is always available to assist in determining the best grade and size of neodymium magnet for your application. We also offer coating and plating choices for magnets we custom-machine.
Technical Data of Sintered NdFeB Magnet

Grade

Br

Hcb

Hcj

(BH)max

(Tw)

mT

(kGs)

kA/m

(kOe)

kA/m

(kOe)

kJ/m3

(MGOe)

N35

1170-1220

(11.7-12.2)

≥868

( ≥10.9)

≥955

( ≥12)

263-287

(33-36)

80 ºC

N38

1220-1250

(12.2-12.5)

≥899

( ≥11.3)

≥955

( ≥12)

287-310

(36-39)

80 ºC

N40

1250-1280

(12.5-12.8)

≥907

( ≥11.4)

≥955

( ≥12)

302-326

(38-41)

80 ºC

N42

1280-1320

(12.8-13.2)

≥915

( ≥11.5)

≥955

( ≥12)

318-342

(40-43)

80 ºC

N45

1320-1380

(13.2-13.8)

≥923

( ≥11.6)

≥955

( ≥12)

342-366

(43-46)

80 ºC

N48

1380-1420

(13.8-14.2)

≥923

( ≥11.6)

≥876

( ≥12)

366-390

(46-49)

80 ºC

N50

1400-1450

(14.0-14.5)

≥796

( ≥10.0)

≥876

( ≥11)

382-406

(48-51)

60 ºC

N52

1430-1480

(14.3-14.8)

≥796

( ≥10.0)

≥876

( ≥11)

398-422

(50-53)

60 ºC

30M

1080-1130

(10.8-11.3)

≥796

( ≥10.0)

≥1114

( ≥14)

223-247

(28-31)

100 ºC

33M

1130-1170

(11.3-11.7)

≥836

( ≥10.5)

≥1114

( ≥14)

247-263

(31-33)

100 ºC

35M

1170-1220

(11.7-12.2)

≥868

( ≥10.9)

≥1114

( ≥14)

263-287

(33-36)

100 ºC

38M

1220-1250

(12.2-12.5)

≥899

( ≥11.3)

≥1114

( ≥14)

287-310

(36-39)

100 ºC

40M

1250-1280

(12.5-12.8)

≥923

( ≥11.6)

≥1114

( ≥14)

302-326

(38-41)

100 ºC

42M

1280-1320

(12.8-13.2)

≥955

( ≥12.0)

≥1114

( ≥14)

318-342

(40-43)

100 ºC

45M

1320-1380

(13.2-13.8)

≥995

( ≥12.5)

≥1114

( ≥14)

342-366

(43-46)

100 ºC

48M

1360-1430

(13.6-14.3)

≥1027

( ≥12.9)

≥1114

( ≥14)

366-390

(46-49)

100 ºC

50M

1400-1450

(14.0-14.5)

≥1033

( ≥13.0)

≥1114

( ≥14)

382-406

(48-51)

100 ºC

30H

1080-1130

(10.8-11.3)

≥796

( ≥10.0)

≥1353

( ≥17)

223-247

(28-31)

120 ºC

33H

1130-1170

(11.3-11.7)

≥836

( ≥10.5)

≥1353

( ≥17)

247-271

(31-34)

120 ºC

35H

1170-1220

(11.7-12.2)

≥868

( ≥10.9)

≥1353

( ≥17)

263-287

(33-36)

120 ºC

38H

1220-1250

(12.2-12.5)

≥899

( ≥11.3)

≥1353

( ≥17)

287-310

(36-39)

120 ºC

40H

1250-1280

(12.5-12.8)

≥923

( ≥11.6)

≥1353

( ≥17)

302-326

(38-41)

120 ºC

42H

1280-1320

(12.8-13.2)

≥955

( ≥12.0)

≥1353

( ≥17)

318-342

(40-43)

120 ºC

45H

1300-1360

(13-13.6)

≥963

( ≥12.1)

≥1353

( ≥17)

326-358

(43-46)

120 ºC

48H

1370-1430

(13.7-14.3)

≥995

( ≥12.5)

≥1353

( ≥17)

366-390

(46-49)

120 ºC

30SH

1080-1130

(10.8-11.3)

≥804

( ≥10.1)

≥1592

( ≥20)

223-247

(28-31)

150 ºC

33SH

1130-1170

(11.3-11.7)

≥844

( ≥10.6)

≥1592

( ≥20)

247-271

(31-34)

150 ºC

35SH

1170-1220

(11.7-12.2)

≥876

( ≥11.0)

≥1592

( ≥20)

263-287

(33-36)

150 ºC

38SH

1220-1250

(12.2-12.5)

≥907

( ≥11.4)

≥1592

( ≥20)

287-310

(36-39)

150 ºC

40SH

1240-1280

(12.5-12.8)

≥939

( ≥11.8)

≥1592

( ≥20)

302-326

(38-41)

150 ºC

42SH

1280-1320

(12.8-13.2)

≥987

( ≥12.4)

≥1592

( ≥20)

318-342

(40-43)

150 ºC

45SH

1320-1380

(13.2-13.8)

≥1003

( ≥12.6)

≥1592

( ≥20)

342-366

(43-46)

150 ºC

28UH

1020-1080

(10.2-10.8)

≥764

( ≥9.6)

≥1990

( ≥25)

207-231

(26-29)

180 ºC

30UH

1080-1130

(10.8-11.3)

≥812

( ≥10.2)

≥1990

( ≥25)

223-247

(28-31)

180 ºC

33UH

1130-1170

(11.3-11.7)

≥852

( ≥10.7)

≥1990

( ≥25)

247-271

(31-34)

180 ºC

35UH

1180-1220

(11.8-12.2)

≥860

( ≥10.8)

≥1990

( ≥25)

263-287

(33-36)

180 ºC

38UH

1220-1250

(12.2-12.5)

≥876

( ≥11.0)

≥1990

( ≥25)

287-310

(36-39)

180 ºC

40UH

1240-1280

(12.5-12.8)

≥899

( ≥11.3)

≥1990

( ≥25)

302-326

(38-41)

180 ºC

28EH

1040-1090

(10.4-10.9)

≥780

( ≥9.8)

≥2388

( ≥30)

207-231

(26-29)

200 ºC

30EH

1080-1130

(10.8-11.3)

≥812

( ≥10.2)

≥2388

( ≥30)

223-247

(28-31)

200 ºC

33EH

1130-1170

(11.3-11.7)

≥836

( ≥10.5)

≥2388

( ≥30)

247-271

(31-34)

200 ºC

35EH

1170-1220

(11.7-12.2)

≥876

( ≥11.0)

≥2388

( ≥30)

263-287

(33-36)

200 ºC

38EH

1220-1250

(12.2-12.5)

≥899

( ≥11.3)

≥2388

( ≥30)

287-310

(36-39)

200 ºC

28AH

1040-1090

(10.4-10.9)

≥787

( ≥9.9)

≥2624

( ≥33)

207-231

(26-29)

230 ºC

30AH

1080-1130

(10.8-11.3)

≥819

( ≥10.3)

≥2624

( ≥33)

223-247

(28-31)

230 ºC

33AH

1130-1170

(11.3-11.7)

≥843

( ≥10.6)

≥2624

( ≥33)

247-271

(31-34)

230 ºC